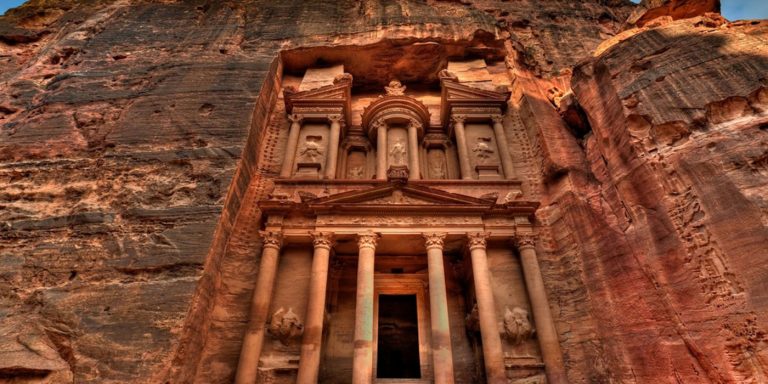 3 Days wonderful tour in Jordan, including the most wonderful places Petra Dead Sea, that you will have an amazing stay in Amman for one day, then Petra and Dead Sea for two days.
DAY 1: Airport – Amman (City Tour)
Arrive at Queen Alia International Airport, Meet assist by our representative, Then Drive to Amman for a city tour visiting: Roman theatre, Citadel, Al-Hussein mosque in the dawn town of Amman. And Transfer to the hotel for Overnight.
---
DAY 2: Petra
After breakfast at the hotel. Full day tour visiting Petra; the home of the Nabateans. The complete city carved in a mountain with the huge colourful rocks mostly pink that called the red-rose city and the entrance to the ancient city is through a 1.25 km narrow gorge in the mountain called the Siq. Before you reach the siq, visitors will experience and enjoy a short horse ride for 700 m. In the city are various structures, all (except 2) are carved into rock, including al Khazneh – known as the Treasury – which has been designated as one of the "New Seven Wonders of the World". Other major sites of interest in Petra include the Monastery, the Roman Theater, the Royal Tombs, and the High Place of Sacrifice. Petra was rediscovered for the western world by Swiss explorer Johann Ludwig Burckhardt in 1812. after that transfer to hotel in for check in, and over night at Petra .
---
DAY 3: DEAD SEA – Airport
Breakfast at hotel,. Drive to the Dead Sea near the Jordan River, the lowest point on Earth 409 meters below sea level, It is also one of the world's saltiest bodies of water, with 33.7% salinity (You can not sink, you will float). The Dead Sea area has become a major centre for health research and treatment for several reasons, proceed to Amman tourist beach for lunch and free time for swimming ,. .Evening time Transfer to Queen Alia airport, Meet assist by our representative for final departure.
---