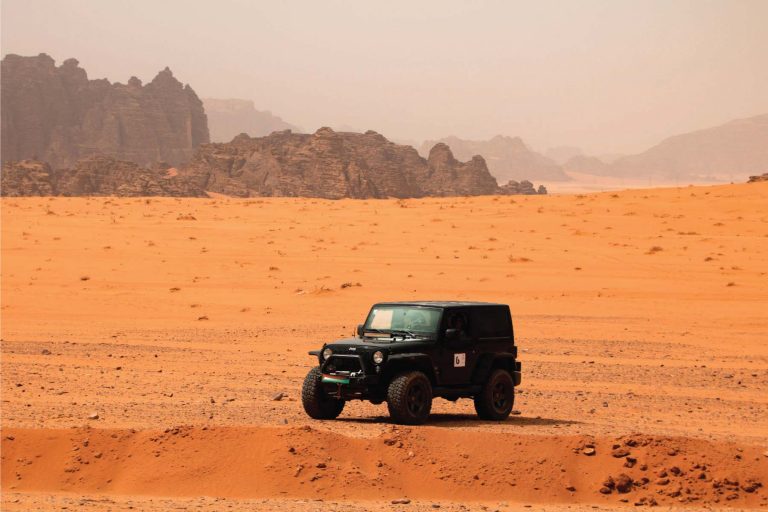 6 Days tour in the south of Jordan places, including Kerak, Dana, Wadi Finan, Wadi Araba, and have a full day in Petra and Wadi Rum visiting the also Rajef Mountain.
DAY 1 : Arrival Amman
Arrival at Queen Alia international airport, meet and assist. Transfer to hotel in Amman, welcome drink and check-in at hotel for overnight in Amman.
---
DAY 2 : Amman – Kerak – Dana – Wadi Finan
Early Breakfast at hotel. Drive to Kerak through the magnificent scenery of Wadi Mujib along the Dead Sea seaside the lowest spot on Earth to Visit Kerak castle, followed by 4WD jeeps drive to Dana village to visit Wadi Dana; a spectacular nature reserve that has a combination of mountains and desert landscapes. A Nearby drive to Wadi feinan to camp near the waterfalls and astonishing cliffs surrounding the Wadi Ghweir area. Dinner and overnight at wadi Feinan camp
---
DAY 3 : Wadi Feinan – Wadi Araba – Namalah Mt – Jebal Garoun – Petra
Early Breakfast at the camp. Full day tour driving along narrow canyons of sandstone towards Wadi Araba, which have a distinctive combination of Volcanic Mountains, Sand dunes, and wildlife in Jordan, pass by Wadi Namalah the only way from Wadi Araba to Little Petra; a thrilling driving over the sand dunes through the mountains until we reach the Sharah Mountain then Ras Nemelah mountains to see many archaeological discoveries. Proceed to Wadi Gamar; a long canyon with waterfalls and obelisks north of Petra, pass Jebel abu mahmoud to highlight best part of Wadi Araba. Arrive to Petra the home of the Nabateans, rest and refreshment, proceed driving to Little Petra to drive through Siq Bajah until we reach Jebal Qaroun; view the majestic colorful canyon and Petra mountains. Proceed to visit Little Petra (Baidah 300 BC) rock stairs leading to rock carved streets, rock carved palaces, houses and dwellings. Transfer to hotel for dinner and overnight in Petra.
---
DAY 4 : Petra full day tour
Early Breakfast at hotel. Full day tour visiting the complete city carved in a mountain with huge colorful rocks called the red-rose city. The tour starts first by horse riding through the Siq; the entrance of the ancient city through a narrow gorge in the mountain reaching the Treasury "al-khazneh" which has been designated one of the "New Seven Wonders of the World", then by walking to visit the Roman theater the royal tombs, the High Place of Sacrifice. Transfer to hotel for overnight in Petra.
---
DAY 5 : Petra – Rajef Mountains – Old Humemah – Wadi Rum
Early Breakfast at hotel. Full day off road tour by Jeep driving through Rajif passing Nova Traianah to old Mesoudah; the happy land. Continue to Old Humeimah; A Nabatean caravan station and Roman military camp. Enter Wadi Rum from the northern part via the sand dunes to Jebel Karazah, exploring Wadi Rum throughout canyons and sand dunes. Stop at Lawrence of Arabia spot to breathe the moment of an amazing sunset scene. Drive to camp a night's stay beside the fire and under the most magnificent starry desert sky in camp enjoying bedouin dinner and overnight in tents in Wadi Rum.
---
DAY 6 : Departure Amman
Breakfast at Camp. Drive through the desert highway to Queen Alia international Airport for final Departure.
---