Nature Reserves And Parks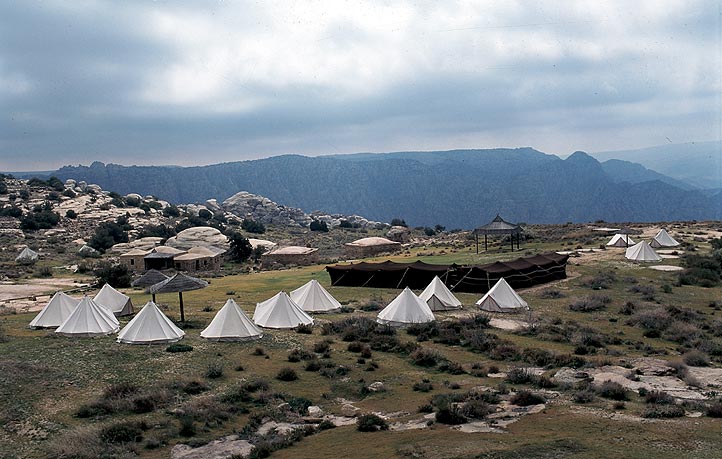 The Jordanian government makes every effort to protect nature. The Royal Society for the Conservation of Nature (RSCN), founded in 1966, undertakes considerable work in environmental matters.
Shaumari :
One of the first reserves znat was created was Shaumari, which is a 22-km2 wildlife reserve situated about ten kilometers south of Azraq. The reserve was set up in 1975 to reintroduce the Arabian Oryx. a type of long-horned gazelle that became extinct in 1920 in the deserts of southern Jordan because of uncontrolled hunting. The thirty pairs that were let loose in the reserve have had no problems breeding and, in the year 2000. twenty-five Oryx's were returned to their natural habitat, the Wadi Rum desert. In addition, blue- and red-necked ostriches, gazelles and even onagers from Germany have been introduced_ There are almost 250 bird species in the reserve. A veterinary centre has been set up to attend to ill and injured animals, in addition to a nature museum for educational purposes.
---
Azraq :
The oasis of Azraq emerges in the midst of the desert like a miracle of nature. The partially restored marshes on the southeast of the oasis, close to Shaumari. Occupy a reserve of 12 km2. The often dense vegetation is the habitat of fauna adapted to the swamps. It has also become a station for migratory birds, some of which come to spend the winter here and breed.
---
Dana :
Opened in 1993, Dana nature reserve most likely gets its name from a village that was founded on the eastern border of the reserve in the 15th century and the Wadi Dana that blends into the Araba plain to the south of the Dead Sea. Located north of Shobak, this is Jordan's largest nature reserve, occupying an area of 320 km2. This relatively extensive mountainous terrain offers magnificent landscapes of green valleys and rocky massifs. Over 700 plant species have been recorded, in addition to 200 bird species and 565 animal species, including around forty mammals: foxes, badgers, ibex, gazelles, hyrax, wolves, jackals and wild cats.
---