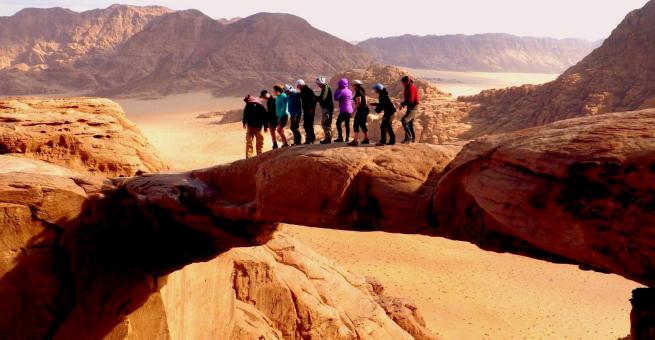 3 Days walking inside amazing nature in wide Desert of Wadi Rum and visit the main places and mountains
Day 1:
Arrive by bus at wadi rum visitor's center; a welcome drink will be provided, short time for refreshment. Begin the journey into the sandy valleys that give out genuine desert experience by walking to the mountain of the Seven Pillars of Wisdom, lunch. Continue walking to the great red sand dunes in Um Ishreem valley. Camping for overnight in Um-Ishreen valley enjoy the magical desert night-skies of Wadi Rum.
---
Day 2:
Breakfast at the camp, continue walking to Barrah Canyon surrounded by high cliffs, walk through it, camping for overnight at Fum Al Barrah area; Drinking tea and coffee around the fire, enjoying the silence of the desert.
---
Day 3:
Breakfast at the camp, continue walking from Fum al Barrah to the red sand dunes visiting the thamodic inscriptions, keep walking to wadi rum village. Transfer by bus from wadi rum for further tour arrangement.
---